Fruit Kumquat, lat. Fortunella comes from the south of China. Its name comes from the Latin word "kam quat" which means golden orange in Chinese. This is a small type of orange, 2-5 cm in size. The inside is divided in quarters. It is tasty and sour. Now it is grown in Europe as well, in Corsica and in Provence. This miraculous fruit contains a lot of health benefits and you should definitely consider including it in your daily diet.
This fruit consists of big amounts of vitamins A, C and E. It also contains water, Potassium, Magnesium, Phosphor, Calcium and Iron. Therefore, it strengthens the immune system and protects the body from cancerous diseases, most of all due the fact it contains big amounts of antioxidants and the vitamin C. In addition, it improves the cardiovascular system and lowers the cholesterol level and the triglycerides in the blood, resulting in a better blood flow, and therefore reduced risk of brain or heart stroke. It also contains great amounts of Potassium, giving the proper amount of liquids to the body. Besides all that, it contains the healthy omega-3 acids and omega-6 fatty acids. It protects the body from diabetics and inflammations. It increases the energy level since it's a great source of riboflavins.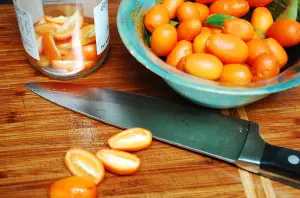 The fruit kumquat needs to be kept in the refrigerator, sealed into a plastic bag. Before its consumption, you need to squeeze the fruit between your fingers so that it releases its juices and fats and therefore it can produce a better taste. It usually tastes similar to tangerine, the only difference being in the shape and the crust, which is soft and eatable. You can prepare jams, juices and pies of the kumquat.
Having all those health beneficial characteristic in mind, you can start locating the nearest grocery store where you can find "the golden orange"  and start implementing it in your diet. You won't regret it, and your children would love it.